Shell vases - Sl-Homedecoration.com
Discover the most beautiful shell vases for your home. At SL-Homedecoration.com you will find a wide selection of unique home accessories. Take a quick look.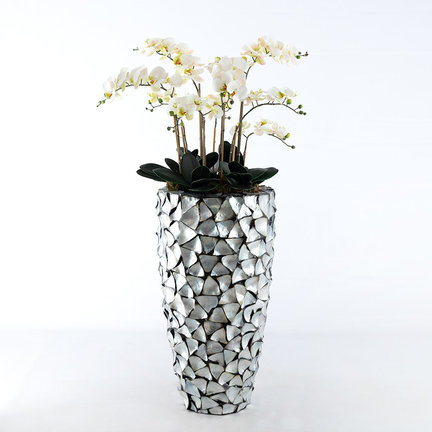 Beautiful shell vases: a wonderful addition to any interior
Sweet & Lovely Home Decoration has a very wide range of beautiful vases. For example, you can visit our webshop for incredibly attractive shell vases. The different large and small models of vases are covered with shells and thus give a very beautiful mother-of-pearl effect. This creates a luxurious appearance and immediately gives your interior more class. When the light shines on it, a very special effect is created, in which all kinds of colors and nuances become visible. This way your new shell vase will look a little different at any time of the day. This way you will never get tired of your beautiful interior decoration.
Such a vase is of course very beautiful for decoration, but it is also very practical. For example, fill it with a beautiful bunch of flowers in your favorite colors or set beautiful branches. Always put something different in it, so that you can enjoy the vase in a different way every time. You can opt for natural bloomers, but also artificial plants or artificial flowers will rightly look beautiful in your new vase shells!
Why order from us?
You may wonder: why buy a vase from Sweet & Lovely Home Decoration? The answer to that question is actually very simple. We are a company, but we always go for a personal approach. We know from experience how much fun it is to find the perfect decoration items for your home. That is why we started to delve into the many different styles available, from which we then made a wide selection. We offer these with love in our webshop, so that you too can create the interior of your dreams. Our range consists of a variety of top European designs of the highest quality. This will complete the styling of your home.
Plenty of choice in our collection of shell vases
To ensure that you always find the right item that completely fits your living style, you can choose from shell vases in various sizes, shapes and designs. So just take a look around our webshop and think about which of our vases suit your taste and your home. Not sure between two or more options? Feel free to ask us for advice.
We are happy to do our part to ensure that you find a suitable new vase. Of course it is also possible to combine several types of vases with shells. For a more balanced look, you can also opt for two shell vases of the same size that you decorate in the same way. This looks great on, for example, a cupboard, by the fireplace or in the windowsill. Let your imagination run wild and give your home a fantastic new look!
Easily ordered and delivered
Buying a shell vase couldn't be easier than via the Sweet & Lovely Home Decoration webshop. It's just a matter of putting your favorite items in the shopping cart and paying. For your convenience, we offer various payment options: iDeal, PayPal, Afterpay, MisterCash, credit card and bank transfer. We will then immediately start collecting and properly packing your order for you.
In this way we can safely deliver your new shell vase to your home. Do you order for € 50 or more? Then your order will be delivered free of charge. The average delivery time is two days. For more information about shipping within Europe, please refer to the Customer Service section on our website.
Questions and suggestions about shell vases?
We are always open to suggestions regarding the expansion of our collection. So are you missing a certain type of vase, such as a shell vase in a certain size or version? Please let us know as soon as possible. We are happy to look for a suitable model that you can use to make your interior even more beautiful. Even if you are enthusiastic about our shell vases and would like more interior decoration in this beautiful look, you have come to the right place. Because we put together our own collection, we can search very purposefully for new, suitable items.