Buy glass or ceramic vases - Sl-Homedecoration.com
Discover the most beautiful vases for your home. At SL-Homedecoration.com you will find a wide selection of unique home accessories. Take a quick look.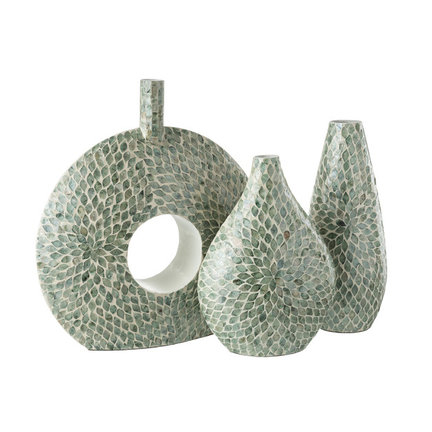 You will of course find the most beautiful glass vases at Sweet & Lovely Home Decoration
A glass vase is beautiful in itself and is therefore already beautiful if there is nothing in it at all. Of course it is such a good idea to opt for a more exclusive model. Let's face it, isn't it much more fun to decorate your home with a beautiful vase that you can't just find anywhere?
That's why you are in the right place at Sweet & Lovely Home Decoration! We have a real passion for vases in all shapes and sizes. For example, you will find unique vases made of glass, but also, for example, ceramic. Unique models that you will certainly not find in every interior store. Choose your favorite version and give your interior that little bit extra. You will see that it immediately makes you happy!
The nice thing about buying our beautiful vases is that you can match them perfectly to the season. Fill them with colorful daffodils or tulips in early spring. In the summer, sunflowers are of course ideal and in the fall you can opt for a fantastic warm combination of yellow, orange and rust-colored autumn leaves. With this, your interior will go very nicely with the seasons.
Of course you can also choose a bunch of beautiful branches, such as Easter branches in the spring or atmospheric holly in the month of December. Nothing as versatile as our vase collection!
Order your favorite vase directly
Do you want to buy a vase from the Sweet & Lovely Home Decoration collection? Then simply take a look around at your leisure in our very extensive range. Navigating our webshop is very simple and you quickly end up in the product category you want. We always put together our range ourselves and then select only the most beautiful items in all kinds of styles.
This gives you a choice of all kinds of beautiful colors, shapes and materials and you will certainly find a variant that completely suits your personal taste. Have you found the ideal vase that makes you completely happy? Then place your order quickly. We ensure that the desired items are sent to you within two days. This way you can enjoy your new home accessory as soon as possible.
Make a nice spot in your house, because before you know it you will already have your new vase! Naturally, the vase of your preference will be properly packaged, so that it is well protected during the journey from our warehouse to your home. Ordering via our webshop is very easy and you can pay by credit card, iDeal, MisterCash, PayPal or by bank transfer.
In addition, all orders over € 50 are delivered to your home completely free of charge. We deliver in Belgium, the Netherlands and Germany and on request also in other European countries (the latter for a small additional charge).
Would you like to know more about our beautiful glass vases? Let us know!
Would you like to learn more about our collection of vases online? Just let us know! We are happy to tell you more about the many options and think along with you. Do you want to buy a certain type of vases, but can't quite find what you are looking for?
It is quite possible that we already have your ideal new vase in our warehouse, but that it is not yet available in our webshop. This has to do with the fact that we are continuously expanding our range, choosing as diverse a range of beautiful and stylish products as possible.
So feel free to ask your question on our live chat. Here we are fully ready to help you further decorate your home. Of course you can also reach us by telephone or e-mail. In this way we do our utmost to help you as perfectly as possible in finding the ideal home accessories for your own palace.
Of course we are always open to your suggestions about our collection. In this way we ensure that at Sweet & Lovely Home Decoration we can offer everything that our dear customers need.
Sweet & Lovely Home Decoration can also be found on social media. For example, you can like and follow us on Facebook and Instagram.