From exclusive wall clocks to extra large clocks
A beautiful wall clock or creative wall clocks in three parts on canvas are always an attention-grabber in your interior
€ 349,-

Wall clock made from metal and wood. Keep track of time in style with this unique clock be...

Compare

€ 229,-

Wall clock made from metal. Keep time in style with this striking wall clock. This oval fr...

Compare

€ 129,-

Wall clock made from metal and glass. Keep the time in style with the striking wall clock....

Compare

€ 85,90

Wall clock made of metal and wood. Our beautiful decoration clocks have a nice design and ...

Compare

€ 25,90

Wall clock made of plastic. Our beautiful decoration clocks have a nice design and are a g...

Compare

€ 25,90

Wall clock made of plastic. Our beautiful decoration clocks have a nice design and are a g...

Compare

€ 179,-

Wall clock made from metal and wood. Keep time in style with this striking wall clock. Thi...

Compare

€ 25,90

Wall clock made of plastic. Our beautiful decoration clocks have a nice design and are a g...

Compare

€ 89,90

Wall clock made of metal. Our beautiful decoration clocks have a nice design and are a gem...

Compare

€ 29,90

Wall clock made of aluminum. Our beautiful decoration clocks have a nice design and are a ...

Compare

€ 29,90

Wall clock made of aluminum. Our beautiful decoration clocks have a nice design and are a ...

Compare

€ 325,-

Wall clock made from natural wood. Keep the time in style with the striking wall clock. Th...

Compare

Make your home a happy place
Your home, your paradise
Transform your house into a home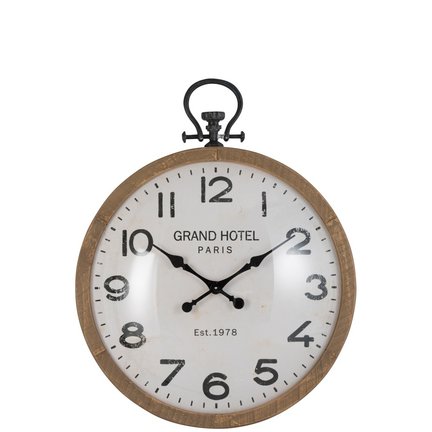 Wall clocks in different sizes
We have included a number of Belgian and Dutch brands of wall clocks in our range, which are an eye-catcher in your home. Wall clocks that can be hung as a small size in your bedroom, hall. Or a wall clock in an extra large version that will certainly enhance your wall. So that you always find a wall clock that fits in your interior. Do you like a clock with a spiral that makes your clock hang off the wall? Or do you prefer a three-part clock to be creative?
At S&L Home Decoration we have bought a large number of beautiful wall clocks that will hang beautifully in your home. A wall clock always hangs beautifully above the mantelpiece or fireplace. Or do you have a large wall where our extra large version can sit? Have you already thought of a place where your design wall clock is best placed?
Whether you opt for a simple clock or a creative clock, your interior will get a new upgrade anyway. Every wall clock is an eye-catcher in any case. Do you know how much you actually look at your clock? you look so often to see what time it is that your clock will be a pleasure to watch.
Order a wall clock?
Feel free to even take a look at this page and the next one to see what clocks we have in our range. Chances are that there is also a wall clock for you. Did you find one? Add it directly to your shopping cart or to your favorite. We will send your wall clock no later than two days after the day of order by b-post. Of course firmly packed, so that it arrives at you in perfect condition. Did you know that you can easily pay with iDeal, MisterCash, credit card, PayPal, Afterpay or a bank transfer? Whatever is most convenient for you. If your order is over € 100, we will ship your clock for free.
Questions about Wank Bells?
Do you want to know more about a specific wall clock? Ask your questions via the live chat. Or contact us in another way. Clocks something indispensable in your home with our wall clocks you will be everywhere in style on time!