Table clocks - Sl-homedecoration.com
Discover the most beautiful table clocks for your home. At SL-Homedecoration.com you will find a wide selection of unique home accessories. Take a quick look.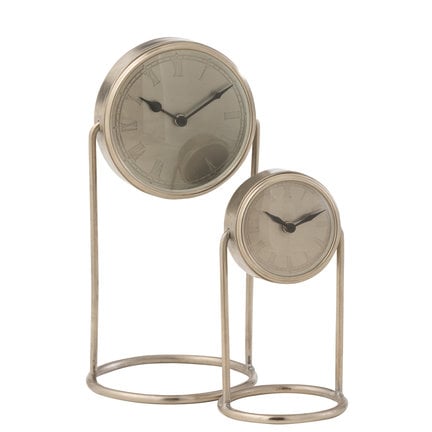 With our beautiful table clocks you are completely up to date
Sweet & Lovely Home Decoration is the specialist in the field of interior and home decoration. You will therefore find the most beautiful items in our webshop to make your home even cozier. Our top quality decoration not only has an aesthetic function, but is also very practical. Think, for example, of our beautiful collection of clocks. They come in all kinds of models, shapes and designs. For example, you can opt for a wooden wall clock, metal wall clock or, for example, an elegant table clock. The great thing about table clocks is that they are large enough to read the time well, while at the same time being modest enough not to be disconcerting. You don't necessarily have to place our small clocks on your table. They will also look particularly good on a side table, your sideboard or the fireplace. In addition, thanks to their fine size, they are also ideal in your workspace or in your bedroom.
Special designs
Nowadays you can buy boring average table clocks on almost every street corner. That is why we at Sweet & Lovely Home Decoration look further and go for the most special products of the highest quality. For example, we work together with the beautiful brand J Line, which develops truly unique items. This gives you a functional and, above all, striking design. For example, choose a black table clock in an antique, sporty or retro version. Our collection consists of home decoration in the most beautiful materials, including wood, glass and metal. In this way, they are made to last for a very long time and to adorn your home for many years. Take a look at our range of table clocks to see which version best suits your interior.
A beautiful table clock for every budget
Whether you have a modest or a slightly larger budget available, you will always succeed with us. We choose to offer beautiful home accessories in various price ranges. Everyone is welcome at our place and a refined and cozy interior is feasible for everyone. We also regularly hold attractive sales, so that you can buy your favorite table clocks at the most competitive rate! To always stay informed of our offers, you can sign up for our newsletter without obligation and free of charge. This also gives you an immediate € 5 discount on your next order (minimum order value € 20). Have you received a Sweet & Lovely Home Decoration gift voucher for your birthday, anniversary at work or at your wedding? Then you can of course also buy a beautiful table clock! This way you have a lasting memory of this special moment.
Large collection of clocks
You can simply buy a table clock from us, but you can also purchase a beautiful wall clock at the same time. Choose to implement one style or go for a beautiful mix. You decide what it will be. Both types of clocks are suitable for all rooms of your house. Place one in the kitchen so you always know how long it will take for your favorite dish to be ready, and hang one in the hall so you're never late. Spreading multiple clocks throughout your home means you're always up to date. You can even opt for a beautiful three-part clock that you can set to various time zones. Handy if you have loved ones or a loved one abroad!
Learn more about our table clocks
Would you like to receive some more background information about your preferred table clock or are you looking for styling advice for your interior? Then know that you can always contact the experts at Sweet & Lovely Home Decoration. Just like you, we also have an enormous passion for attractively furnishing the house. We combine the enormous experience that we have built up over the years with our knowledge of current living trends. This way we can provide you with the perfect advice at any time and help you make your own home even better. We are fully available for you on the live chat, but also by telephone and e-mail.
Didn't find the right model clock? Tell us!
The collection of clocks from Sweet & Lovely Home Decoration is extremely diverse. However, it is possible that you have just not found the perfect clock for your living room, dining room or bedroom. You would do well to contact us then. We may have exactly the right table clock for you in our stock, but we just haven't put it on the website yet. If we really don't have what you are looking for at the moment, we will be happy to look for the ideal table clock that completely meets your wishes. We can draw on our very extensive network of top designers and manufacturers throughout Europe. No wish is too crazy for us, so be sure to let us know!