Candle Holders - Sl-homedecoration.com
Discover the most beautiful candle holders for your home. At SL-Homedecoration.com you will find a wide selection of unique home accessories. Take a quick look.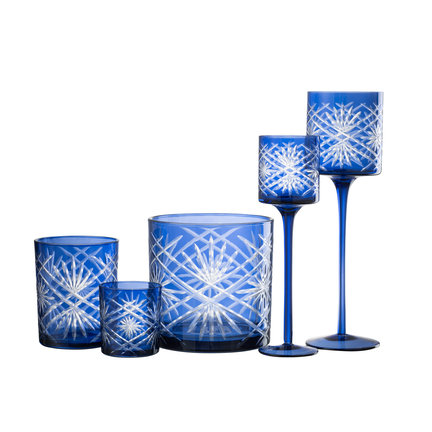 Atmospheric candle holders from Sweet & Lovely Home Decoration
In the past, the atmospheric light of candles was mainly used for practical reasons. In times when electricity hardly played a role, candlelight was of great importance in order to be able to see something in the evenings and on dark days. Fortunately, we now have more luxury and comfort at home and we add candles for a completely different reason. A stylishly decorated plateau with candles or a beautiful freestanding candle holder creates a romantic and cozy atmosphere in your home. Are you also looking for such a beautification of your home?
Then get to know the beautiful candle holders from the Sweet & Lovely Home Decoration collection. As you can expect from us, you can choose from a huge range of styles and designs. In this way you will always find the ideal holders for your favorite candles. Naturally, they are made by the best European designers and come from the most renowned manufacturers. For example, choose a beautiful J Line candle holder in your favorite living style!
Small but nice: our candle holders
A very popular candle is still the cozy tea light (also called tea light). This type of candle is characterized by its small size and practical number of burning hours. Thanks to the standard size of the tealight, it fits in any large or small tealight holder. You can choose a sleek tea light holder in a neutral color or made of transparent glass, but we also offer you plenty of choice in terms of J Line candle holder in mosaic. Whether you like colorful and striking or calm and modest, our collection really offers something for everyone.
Many of our tealight candle holders have a motif. When you then turn on the light, this beautiful motif comes into its own even better. With a glass tea light holder with mosaic, the various colors will spread very nicely throughout the room and provide a playful effect on your walls. To give you a good idea of ​​what each tealight holder looks like when lit by candlelight, we have included a photo of almost all products. This makes making the right choice even easier!
Chic dining with candlesticks in various styles
Of course you are also at the right place if you want to buy a candle holder for your dining table. Depending on the size and shape of the table, you can choose one or more candlesticks with as many arms as you wish. From a classic candlestick for one candle in silver or gold to a five-armed candlestick with jewels. Are you looking for something more hip and contemporary?
Then let your light shine on our J Line candlestick in the shape of a pineapple or our various teak candle holders. Naturally, all our candlesticks and other candle holders are available in various price levels and we also regularly have the most attractive offers. It is therefore certainly worthwhile to regularly take a closer look at our range when you are looking for beautiful home decoration for your living room, dining room, kitchen or perhaps your bedroom. You can always visit our blog for inspiration and tips. Would you rather receive personal advice? Feel free to ask our expert team!
Immediately more atmosphere in the house with a beautiful candle lantern
Are you looking for a beautiful glass or wood candle holder that will become a real eye catcher in your home? Then quickly view our wide range of lanterns! You can place or hang them in all kinds of places in the house, so that they can illuminate and beautify your home. The lanterns from our collection offer enough space for a large pillar candle that will last several days. So you don't have to replace the candle every few hours and you can sit comfortably and enjoy the atmospheric light.
Another great advantage of the candle lanterns is that they are available in all kinds of beautiful designs. This way they always fit into your interior, whether it is modern, classic, industrial or romantic. Choose from the most beautiful types of wood, such as spruce, willow, bamboo or rattan, or opt for a glass and metal lantern candle holder. Depending on your preferences, you can also give your candle lantern a nice spot in your garden. Preferably do this under a canopy, so that your lantern stays beautiful for longer.
Buy a candle holder and have it delivered at home quickly
Have you found the perfect tea light holder, lantern or candlestick? Then of course you want to have it at home as soon as possible! Therefore, pass on your order to us today, so we can get to work right away. We collect your preferred items and pack them very carefully so they don't break on their way to you.
As an extra service, we offer a completely free delivery on orders of € 50 or more. In addition, we are also happy to help you if you can't find the perfect home accessory in our huge collection.