Mirrors - Sl-homedecoration.com
Discover the most beautiful mirrors for your home. At SL-Homedecoration.com you will find a wide selection of unique home accessories. Take a quick look.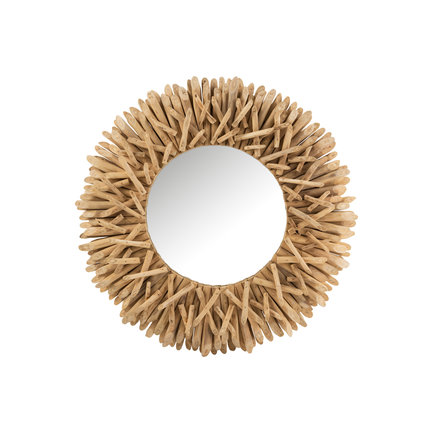 Mirrors for every room in the house
Well, your interior will soon have a big chance of being the most beautiful with one of these unique and stylish mirrors. You can never have too many mirrors. Mirrors are not only useful in your room, but also in the hall at the front door, in your bathroom and in your bedroom. That way you never have to search long to look in the mirror. Moreover, mirrors make your house larger and look attractive, without having to hang a painting.
Welcome to the S&L Home Decoration mirror collection. Mirrors are perhaps the most appreciated home deco items. You can upgrade a boring hall with a large mirror on the wall. But a mirror can also be a great accessory on your dressing table or just standing in the corner of your living room.
We have large and small, round and rectangular mirrors for you that you will enjoy. Choose a wooden frame, a metal frame or a stainless steel frame. Exactly what fits best in your interior.
Buy a mirror?
Browse through our wall mirrors, standing mirrors and table mirrors. See if there is something that is perfect in your room. Once you have found the mirror, simply add it to your shopping basket and continue with your order to get it to your home as quickly as possible. We pack your mirror securely and ensure that it is mailed within two days at the latest.
You can easily pay via iDeal, Mister Cash, PayPal, credit card, transfer or some other options. Is the order amount of your mirror more than € 50? Then we will send it to you for free.
Questions about mirrors?
Do you have any questions about our mirrors? Are you looking for a specific mirror? Let us know by contacting us by mail, live chat or telephone. We are ready to answer all your questions and ensure that your house becomes a home too