Flower pots in terracotta and ceramic - Sl-homedecoration.com
In our very wide range you will find the nicest and most stylish flower pots for decorating your interior.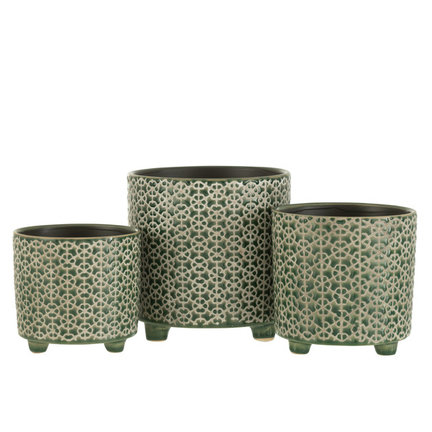 The most beautiful flower pots to brighten up your home!
Sweet & Lovely Home Decoration is your trusted address for everything to make your home even more beautiful. In our very wide range you will find the nicest and most stylish plant pots for decorating your interior.
Of course they come in all kinds of price ranges and in the most diverse designs. In this way you can continue the existing style of your interior or opt for a special accent in your home. We think it is important that you do not buy your new flower pots for single use, but want you to enjoy them for a long time. That is why we only go for the highest quality. This is not only reflected in the beautiful European designs, but also in the materials chosen. For example, you can opt for a terracotta flower pot, shell flower pot or a beautiful ceramic flower pot. Go for a sleek version or a colorfully decorated one. Do you like something a little different? Then our flower pot sets with animal heads are for you! You can choose from monkeys, lions and rhinoceroses in a large or small version.
They match perfectly, but are all a bit different. This is due to the variation in colors. Would you rather go for a different style, but with animals? Then choose a small or large flower pot in the shape of an elephant. It is available in various sizes and features a beautiful ethnic print. Are you looking for an ultra-luxurious look? Then golden flower pots are the ideal choice! Order them separately or in a cozy set and place them on the windowsill of your living room, kitchen or bedroom. As you can see, our range is actually too large to list here. Choosing the perfect flower pots for your home is entirely up to you! Now all you have to do is put a nice plant in it and think of a good place for the flower pot inside or outside.
Why order flower pots from Sweet & Lovely Home Decoration?
There are countless shops where you can buy a flower pot, both online and at physical locations. Nevertheless, we cordially invite you to take a look around in our own collection.Here you will not just find the best flower pots and vases, but you will get acquainted with the more special specimens. Not a dime a dozen flower pots with us, but unique items designed especially for you. We are committed to exclusivity and high quality at an affordable price. This means that we are always looking for the best designers across Europe to see what wonderful creations they have made. We make a first selection from this, based on our own preferences and, of course, not forgetting the taste of our customers.
In this way it is always a nice surprise what we have ready for you. We are certainly not afraid to step outside the usual frameworks. We are completely in love with the flower pot on legs. The choice for a terracotta flower pot is now more varied than ever. So be sure to get inspired on our website. Could you use some advice when furnishing your home, garden or balcony? Then be sure to contact us! We are very happy to help you with this, so that you can make your house a very cozy home. Thanks to our personal approach, we hope to provide you with the best possible service and of course we would love to see you return after your first purchase!
Is it okay to buy a flower pot online?
Buying a flower pot online is very easy, especially if you do it in the Sweet & Lovely Home Decoration webshop. You don't have to worry about transport at all, because of course we pack the plant pot of your preference very carefully for you. We then pass on the package to our reliable delivery partner, who will transport it safely to your home or office address. We deliver throughout Europe and charge only a small contribution to the shipping costs. Do you order for € 50 or more? In most cases delivery is even completely free! Have you not yet reached this amount? Take a look at our range without obligation and who knows, there may be even more to your liking. Of course you can also combine products from multiple categories or add a nice gift voucher to your order!
Still not found what you were looking for?
We continuously expand our range and add new products every week. However, it is possible that your perfect plant pot is not included.If so, we are of course very sorry! We would like to hear from you if you have not been able to find your favorite product. We turn on our search power and will still look for your perfect items! For this we are in direct contact with various.