Storage systems - Sl-homedecoration.com
Discover the most beautiful storage systems for your home. At SL-Homedecoration.com you will find a wide selection of unique home accessories. Take a quick look.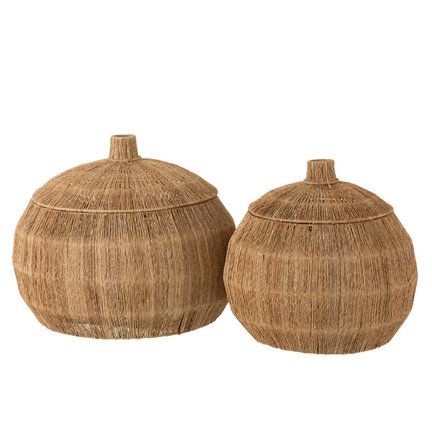 Stylish storage
What a mess would your interior be without these products. But they are not only useful for storing things, they are also very decorative in every home. Are you looking for a nice item to store dirty laundry, magazines, toys or other items? Take a look at the beautiful storage options on this page. From wooden storage cases with iron fittings to woven baskets of willow.
When you see the storage cases, baskets and boxes on this and the following pages, it starts to itch to clean up. Hiding things that are lying around out of sight immediately makes your room a lot cleaner. And the great look of these round, rectangular or square baskets and boxes does the rest.
Do you already see these baskets, boxes and storage cases at your home? Take a look if there is also an interesting model for you.
Leading Belgian design
All baskets, storage cases and boxes are from the A-brand J-Line. A leading Belgian brand in home decoration. J-Line stands for quality and great finish, not for thirteen in a dozen.
So if you want something really special, you know where to go. Add your new storage box, suitcase or basket directly to your shopping cart, leave your order details (or log in if you have previously ordered something from us) and we ensure that it comes to you no later than two days after ordering.
You can pay very easily and securely through all popular payment methods, including Mister Cash, iDeal and credit card. We pack your storage case, basket or box tightly and we also deliver it to your home free of charge for orders over € 50.
Questions about storage cases, baskets and boxes?
Do you have any questions about the storage baskets, boxes and suitcases on these pages? Feel free to ask the S&L Home Decoration team your questions. We are ready for you with the live chat, the mail and the telephone. We are happy to help you turn your house into a real home.