Beach bags - Sl-homedecoration.com
Discover the most beautiful beach bags for your home. At SL-Homedecoration.com you will find a wide selection of unique home accessories. Take a quick look.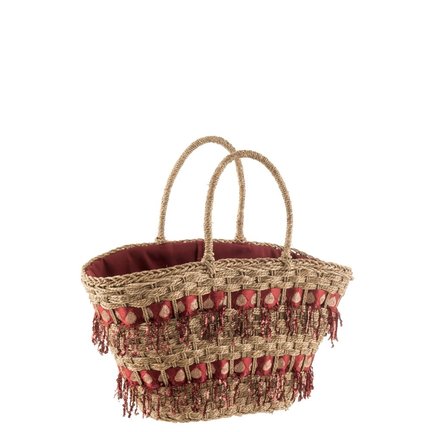 Unique beach bags
On these pages you will find our collection of beach bags and handbags. Do you also get such a sense in the summer at the sight of these wicker bags? They are therefore finished in the summer with the text "Enjoy Summer", with cheerful summer colors or with, for example, an anchor as a motif.
Note the beautiful details and colors of these bags. Even if you don't use them to go out, you can also use them perfectly to put something in your room. Or you can place them for decoration under the coat rack in the hall. You will probably get ideas yourself what you will do with these beautiful bags made of woven wicker.
Please note: these are not bags that you will find on every street corner. These are high-quality bags from the A-brand J-Line from Belgium.
Delivered quickly and easily
Can you wait no longer and do you want the handbag or beach bag of your choice to arrive quickly at home? Then choose S&L Home Decoration. You order from us quickly, easily and safely. With orders over € 100 we will send your bags for free.
You can pay easily and securely via iDeal, Mister Cash, credit card or PayPal. We will post your items by the next working day at the latest, so that you can receive them quickly and enjoy the summer. Even though it still seems far away ...
Questions about bags?
Do you have any questions about these bags? Is it not what you are looking for? Feel free to ask us all your questions and we will help you turn your house into a home. Our interior specialists are happy to answer your questions via chat, e-mail and telephone.