Candle Holders
A candlestick in the room is not only cozy when a candle burns in it.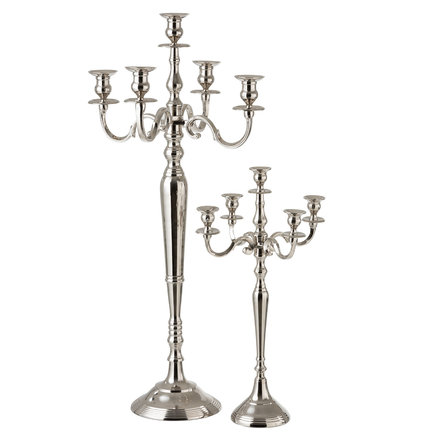 Glass candlesticks
With this collection of beautiful glass, aluminum and steel candlesticks you can turn your living room into a wonderful home in an instant. At S&L Home Decoration we have a great collection of glass candlesticks. They are from the qualitative brand J-Line and there is a choice of modern, classic and artful candlesticks.
No ordinary candlesticks that you find at any store with household items. But candlesticks that have been carefully designed and produced. Just look at the large amount of glass candlesticks to choose from.
There is a good chance that there is also a beautiful candlestick for your interior. Have you been able to make a choice?
Unique and stylish candlesticks
With our unique and stylish candlesticks you can immediately upgrade your living room (or another room). But these candlesticks are of course also great gifts for the holidays or a birthday. Because who doesn't want such a beautiful candle holder that looks good at any time of the day?
Add the candlestick or candlesticks of your choice to your shopping cart with one press of the green button. Log in if you are already a customer or add your address information quickly. You can pay with Mister Cash, iDeal, credit card, PayPal or a bank description.
We will of course send your candlestick to you as quickly as possible, securely and securely packaged. You can count on your order being mailed the next day. Shipping costs are for our account if you order more than € 100!
Questions about candlesticks?
Do you have any questions about the candlesticks from our collection of home decoration products? You can chat directly with our interior specialists when we are online. We are also ready to answer your email or phone call. We would be happy to make a home of your house together with you!