Open cabinets and bookcases made of high-quality materials
Open cabinets are an ideal place to put home accessories, bookcases are a gem to display your books.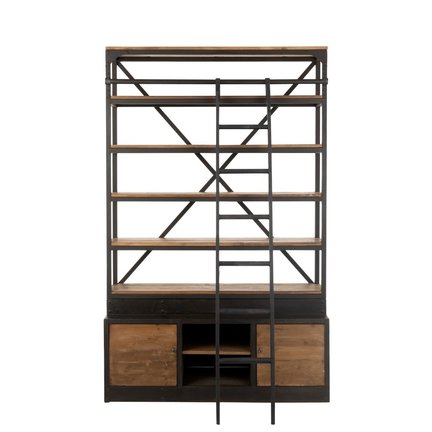 Open cupboards or a bookcase with a ladder?
An open cupboard looks very airy and decorates beautifully with various home accessories. Think of greenery, a few beautiful plants or hanging plants give your freestanding cupboard a completely different dementia. A bookcase full of books is very decorative and gives your home a warm atmosphere. A unique bookcase with a ladder looks very sleek and authentic. That brings peace to your interior.
We have unique shapes of open cabinets, round, oval, rectangular and from various materials. Materials that have been carefully selected to give your cupboard a long life. Open cabinets are used in modern, industrial and rural interiors. After all, they fit into everyone's living room who wants that little bit more. What do you think? A wall unit that beautifully displays your home decoration at home. A major upgrade for your home.
Bookcases as wall divider
A bookcase does not have to be against the wall. Use your bookcase as a wall partition to create several cozy places in your home. Dare to restructure your home. Make a relaxing reading and resting corner with all your favorite books close by, nothing more fun to get to zen!
Make your corner a relaxing place by decorating your cupboard with your books, tea light holders and a nice reading lamp. Everyone wants to rest after a tiring day, right? This is possible with our bookcases in their excellent style.
How to decorate open cabinets
Do you like a luxurious look in your home? Then choose an open cabinet in ironwork in a golden color. Gold stands for brilliance and luxury and can be decorated well with different red and black shades in home decoration and luxury books. Or do you prefer an industrial cupboard? Decorates your cupboard with a beautiful table clock and authentic tea light holders in dark colors. Do not forget the green plants that make your closet completely top.
Did you know that we deliver orders from € 100 for free? Payment is easy and safe via iDeal, MisterCash, PayPal, credit card, Afterpay or bank transfer.
Shop in a soothing and cozy webshop with unique and fun home decoration online items? Do you see something special in our collection? Order your product and we will get started right away.
Questions about open cabinets and bookcases?
Feel free to ask your question. We will respond to your question within a few hours. Are you missing a product in our range? We are happy to find it for you. You can ask all your questions via our live chat or email [email protected] Or choose one of the other ways to contact us. Nothing is more beautiful to display your home decoration in one of our open cupboards.